Metal Staircase Panels
Custom Sizes and Designs Available! If you have Questions or Need a Quote Call (731) 244-2442
Save 10% Today
Just use code: WELCOMEMBP
We Offer These Panels In 3 Styles
Standard, Bordered, and Easy Fit.
Flip through the slides below for more info.
Standard Panel Info
Our Standard Log Home Balcony/Staircase Panels are flat panels with a design cut out of it. The panel you will receive will be just as pictured. There are no borders or screw holes included with this option The panels are powder coated in a low gloss mini textured exterior black finish and completely weatherproof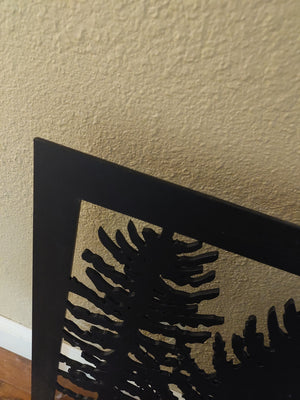 Bordered Panel Info
Our Bordered Metal Balcony Panels are our Standard Panels with a 2 inch flat metal border welded perpendicular to the panel around the outside with screw holes placed along it's length and end plates for easy mounting. If you order a 30 X 60 bordered panel the overall height will be 30 inches the overall length will be 60 inches.
Easy Fit Info
The Easy Fit rails add 2" of height to each panel. Our Easy Fit Railings arrive complete and ready to install between your posts. We use 1"x 2" inch rectangular steel tubing as your hand and toe rail 2 inch wide end plates with screw holes. The total height for a 30" panel when mounted 4 inches off the floor is 36 inches tall.
All Panels Meet the 4" Gap Code!
These Panels Will Stand Up To The Harshest Weather!
All of our panels are completely weatherproof!
Need Help?
Our Panel Experts are available Mon-Fri 7 am to 3 pm CST
Send us an email at MetalBalconyPanels@Gmail.com
or
Call (731) 244 - 2442 and select option
Leave a message if it is after office hours and we will get back with you asap!
15+ Years of experience!
We have over 15 years of experience making custom panels in all shapes and sizes. Let us make your home into a masterpeice!
Message Us
★★★★★

It came out beautiful! My entire family was blown away by the quality!

Marcus H

Denver, Co
★★★★★

Made my home look amazing! These panels are sturdy as can be and worth every penny.

Brandon T

Nashville, TN
★★★★★

Love my panel! Can't wait until I can add more to my deck. So pretty and very strong too.

Debra R

Delaware, CT
★★★★★

My porch looks amazing after these panels were added. The Easy Fit rails made installation a breeze. I had these put up in about 15 mins after they were delivered.

Johnny H

Gatlinburg, TN
★★★★★

My deck came out amazing! Will be adding a few panels to my stairs soon as well. Thanks AJD!

Trey B

Greeneville, SC